For this most recent report of Mary and Jesus appearing unexpectedly we head down under, to Sydney, Australia, where one John Smith – at least that's what he's calling himself – has made public his psychedelic discovery: "I turned on my brand new lava lamp and watched in awe as the unmistakable image of the Holy Mary cradling the Baby Jesus appeared." According to
this Herald Sun article
, Smith has kept this visual manifestation private for over a year, during which he has kept the lamp unplugged and his life has gone from ho-hum to dandy – including lucrative job offers and a woman. Now it's time to share this "miracle" with the world, hence
www.holymarylamp.com
.
The article, dated January 16, reports that at the time of writing the site's visitor counter read 251, but as of writing this, also on January 16, the ticker reads over 54,000! Never ceases to amaze me how folks love looking at these images (or love to hate looking at them).
For those of you keeping score at home, this is the first time a lava lamp has been the vessel for such a vision, which is kind of surprising really. There have been plenty of foodstuffs, plastic bags, stones, driftwood and chipping paint but no lava lamps. These colorful novelty items have been around since the 1960s, becoming a critical accoutrement to any hippie hideaway. I bet John Smith isn't the first person to turn on a lava lamp and see Jesus, but he's certainly the first guy to dedicate a website to his vision.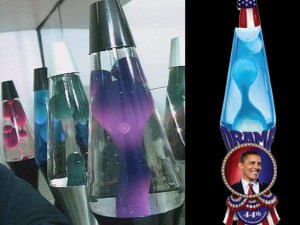 Not that lava lamps are underrepresented in today's culture, as
this Obama lava lamp
proves.