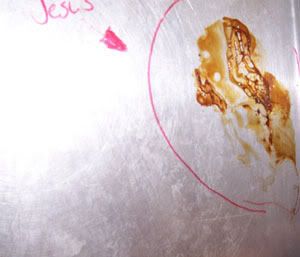 Well, it's
Good Friday
once again – I think plenty of folks would argue that all Fridays are good ones – but this one gets all of the attention. Certainly was true last year for
Madonna of the Toast
, which, along with yours truly, got featured on the
CBC's The Current
. The book had just come out and images of Jesus had been spotted in a church in Prince Edward Island and on a baking tray in Kamloops, British Columbia (above). Time to bring in that guy with the book.
We head to warmer climes this year: Citrus Heights, California. According to the Fox 40 report above, Manny Duenas was doing yard work last Sunday –
Palm Sunday
– when he discovered the image of the Virgin Mary holding Jesus on this palm tree branch. It gave him goosebumps even though it looks like it was pretty sunny and warm. Only moments away from being tossed into the compost bin, the branch has now made the rounds on local news reports and Duenas gets his fifteen minutes, and an uncluttered yard!