Brad Edwards from WOOD TV
in Grand Rapids, Michigan, helped me with
Madonna of the Toast
by sharing his first-hand account of the Pope Pancake story. He emailed me this past Sunday, Easter, alerting me to the fact that the book was going to be mentioned on air, all thanks to this potato.
Found by
Elizabeth Sachs
of Marshall, Michigan, as she prepared a twice-baked potato for her son, she believes the cross is a positive sign, no matter what others may think. She says it is "definitely a for-real sign from God," which has "changed everything." You can
watch the piece
, and even get to see some footage of the book -- thanks, Brad!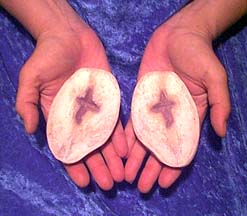 This raw potato was cut open way back in 2005 in Joshua Tree, California, by a personal chef, by a personal chef that specialized in raw foods. (I made up the last part.)
Luckily, photographs of this other holy potato in various stages of shriveling exist on
this website
. You'll have to visit if you want to know how the tuber looked on Day 6.
Oh yeah, some cursory Internet research suggests that there are no potatoes in the Bible . . .